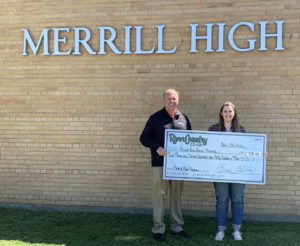 Bruce Mlsna (River Country CEO) presenting a grant to Michelle Heeg (Agriculture Teacher/FFA Advisor) at Merrill High School late last week.
River Country Co-op in partnership with Co-bank donated to the Merrill High School to help funding for their new Farm to Plate program that will be offered.
The Farm to Plate program will allow students to be able to grow products to be used in the class as well as donate to the community Food Pantry. Students will be in charge of planting, weeding, fertilizing and harvesting the food products. The students will also learn to take what they grow and dehydrate, process, preserve and cook the products. These labs will give students the ability to live more sustainably because they will be able to provide for themselves. The life skills of gardening, cooking and preserving foods is incredibly important with a growing population!