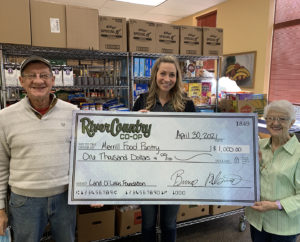 Lisa Hardy (RCC Marketing) presenting a $1,000 grant to Richard Johnson and Sister Celine (Volunteer Co-Managers) of the Merrill Food Pantry late last week.
River Country Co-op in partnership with Land O' Lakes are proud to be able to help out in their local communities.
Did you know the Merrill Food Pantry has around 70 volunteers (between 360-380 total volunteer hours) per month? Prior to COVID, they served around 300 families in the Lincoln County per month. It's also great to know that NO FOOD gets tossed in the dumpster. Anything that is outdated or rotten will be given to local farmers who feed their pigs with it.
Thanks for all you do Merrill Food Pantry!