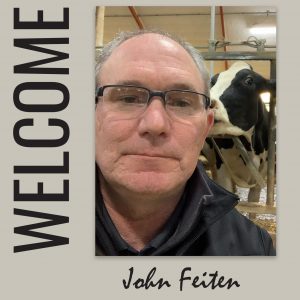 We are happy to announce that John Feiten has joined our River Country Co-op team in mid-October as a Nutritionist specializing in dairy cows and heifers. We believe that he will expand our knowledge and sales in animal nutrition while contributing to the team with his prior experience.
John came from a non-farming family, but always had a passion for it. He owned and operated his own dairy farm for 14 years prior to working as a commercial nutritionist for the last 11 years. From working on both sides, John comes to River Country Co-op with vast knowledge on the needs of the local dairy farmers.
John graduated from UW River Falls with a degree in Animal Science-Dairy Concentration-Science Option.
In his spare time, John enjoys traveling with his wife, Tina, of 22 years to various destinations. Together, John and his wife have 4 daughters ranging from middle school to college age.
John is excited about this new opportunity with River Country Co-op and would enjoy meeting with large herd dairy farmers and discuss their nutrition needs. He will work out of the Owen Feed Complex. Please reach out with any questions: 715-563-8310 or 
johnf@rivercountrycoop.com.