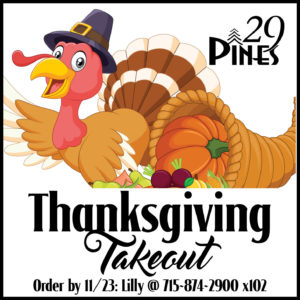 Takeout
Due to the current circumstances, instead of a dine-in option, 29 Pines Restaurant is offering ready-to-serve TAKEOUT! Please place your orders with Lilly by Monday 11/23 at 715-874-2900 x102.
On the Menu:
Slow roasted turkey, beef tips with savory beef gravy, mashed potatoes with chicken gravy, candied sweet potatoes, stuffing, green bean casserole, and dinner rolls.
PIE
Whole 10" Apple or Pumpkin Pies will be available for purchase at $12.99/each.
Happy Thanksgiving!