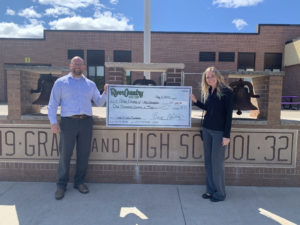 River Country Co-op in partnership with Land O' Lakes was able to donate to the Lake Holcombe School District
The Lake Holcombe school is renovating their weight room/training facility by having new flooring, ceiling, walls, equipment and weight and training programs. Their mission is to provide the student-athletes with a high energy environment, giving them a competitive edge and increasing their overall health and well-being.
Lisa Hardy (River Country Marketing/Graphics) presenting a grant to Todd Senoraske (Lake Holcombe Athletic Director). River Country is excited about this addition to the school that will also be available to the surrounding community!