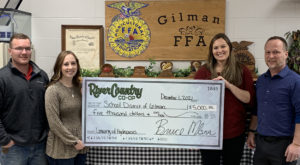 River Country Co-op in partnership with the CHS Seeds for Stewardship Program, was able to donate to the Gilman School District.
The funds will support bringing a hydroponic unit into the Gilman Agriculture classroom, which will allow for K-12 cross curricular learning. Although the hydroponic unit will be used in the Plant Science class based out of the agriculture classroom, the hope is for use across the building and the community – the hydroponic unit is aligned with STEM educational standards. FFA members will be able to use the hydroponic unit in their agriscience projects, and plant science students will be able to teach younger students during Ag in the classroom. There will also be opportunities to bring in the Special Education students to allow them hands-on learning, as well as part of their life skills. The hydroponic unit is the perfect addition to the Agriculture Program in Gilman, there are so many positive and educational possibilities.
Jacob Korzeniewski, Eastern Grain Regional Manager and Alyssa Taran, Graphics & Marketing Specialist of River Country Co-op presented a grant to Jessica Korzeniewski, Agriculture Teacher and FFA Advisor, and Wally Leipart, Principal of the Gilman School District.