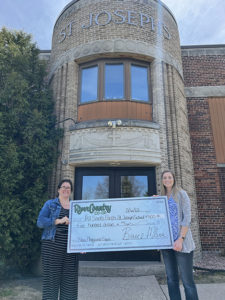 River Country Co-op in partnership with CoBank was able to donate to the All Saints Parish – St. Joseph's School on Friday, May 6th.
Pictured are Sara Giza, Principal of St. Joseph's School in Boyd and Lisa Hardy, River Country Co-op Marketing & Graphics Coordinator. The donation will go towards purchasing new playground equipment for the school as the old playground is deteriorating and becoming unsafe for children to play on.
We are proud to support and donate to the local communities in which we serve!